Undersheriff Jin Sung Kim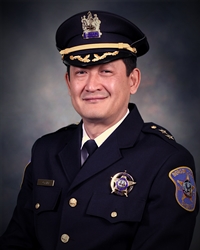 Undersheriff Kim is a 25 year veteran of the Bergen County Prosecutor's Office. During his career at the prosecutor's office, he has completed the tours in various investigative and administrative sections within the office, including a stint with the Criminal Investigations Section (CIS), specializing in gambling, organized crime, and public corruption; Grand Jury Investigations Section; Juvenile Section; and Property/Evidence & and the Asset Forfeiture Unit.
Undersheriff Kim holds a Bachelor of Arts (BA) degree in Political Science and in Economics from New York University. He also has a Juris Doctorate (JD) from Rutgers School of Law-Newark. He is a founding member of the Korean American Law-Enforcement Association of New Jersey (KALEANJ). Undersheriff Kim is the first Korean-American to ever serve as Undersheriff for the Bergen County Sheriff's Office.